When the fastest men on the planet contest the Olympic 100 meters final in London on August 5, it will be a major upset if the winner does not come from the small Caribbean island of Jamaica.
Injuries or false starts aside, Usain Bolt will take center stage as he bids to retain the title he won in Beijing in 2008, but if he slips up then young pretender Yohan Blake is waiting in the wings, not to mention veteran former world record-holder Asafa Powell.
With such a pool of talent, 4x100m relay success is almost guaranteed, and Bolt is an even heavier favorite for 200m individual gold.
In the women's events, Jamaican domination is also a common theme, with Shelly-Ann Fraser-Pryce defending her 100m crown and Veronica Campbell-Brown going for a hat-trick of golds in the 200m.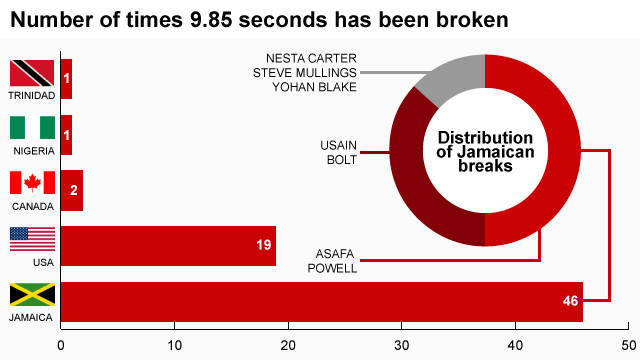 Sprinters from the United States have won the majority of gold medals in the modern Olympic era and the likes of Tyson Gay will be keen to knock Bolt off the top of the podium in London.
But Gay represents a country with a population of over 300 million people with a massive tradition in track and field through the eras of stars such as Jesse Owens, Carl Lewis and Florence Griffith-Joyner.
So how is it that they are now largely second best to athletes from an impoverished island inhabited by fewer than three million people?
And it's not only athletes who don the famous gold and green trim of Jamaica who have made their mark.
Olympic 100m champions Linford Christie (for Great Britain in 1992) and Donovan Bailey (for Canada in 1996) were born and bred in Jamaica, as was the now disgraced Ben Johnson, who also represented Canada.
So what is the secret of this remarkable Jamaican sprinting pedigree and will it continue into the future?
Role models
With role models like Bolt and Campbell-Brown, the conveyor belt of talent certainly shows no signs of slowing. The 22-year-old Blake, who won last year's world championship 100m in Daegu when Bolt was disqualified in the final for false starting, is the latest to emerge.
Bolt himself drew inspiration from a former Jamaican great — Don Quarrie, who won the 1976 Olympic 200m title in Montreal and six Commonwealth Games gold medals.
"For me Don Quarrie was somebody to watch and to be amazed by," Bolt told CNN's Aiming for Gold program.
"That's why I love the 200m so much because I've seen Don Quarrie and I said, 'I can be that good.' Quarrie, (Herb) McKenley, these are the guys that I looked up to."
McKenley and Arthur Wint were the first Jamaicans to taste Olympic success, at the 1948 London Games.
The elegant Wint pipped McKenley for gold in the longer 400m sprint, while the latter achieved the rare feat of reaching the finals of the 100, 200 and 400m at the first post-war Olympics.
Of Jamaica's current crop of women stars, Campbell-Brown was mentored by the great Merlene Ottey, who won a record 14 world championship medals for Jamaica in the sprint events and was still competing at international level for her adopted Slovenia past her 50th birthday. Now 52, Ottey still has hopes of qualifying for London 2012.
"She (Ottey) is a very positive person, very strong, very hard working, very passionate and she is a friend," Campbell-Brown told CNN.
A hard school
Campbell-Brown went to the same high school in Jamaica as Ottey — Vere Technical — and both earned their trade in the ferociously competitive track and field schools competition on the island.
Bolt is convinced the key to Jamaican success is the intense rivalry of grassroots athletics from an early age.
From CNN.com
Posted by Ngo Okafor
The most downloaded black male model photo gallery and blog